President Harry S Truman Didn't Actually Have a Middle Name
For whatever reason, presidents are often known by their middle initial. John F. Kennedy, George W. Bush, Harry S. Truman.
Although Truman is commonly referred to with his middle initial ("S"), the 34th president actually didn't have a middle name– just an initial.
All his life, people were confused about the mysterious "S" that Truman used as his middle name. The Chief Justice of the US Supreme Court even screwed up his inaugural oath, reading "I, Harry Shipp Truman…" to which Truman responded curtly, "I, Harry S Truman…"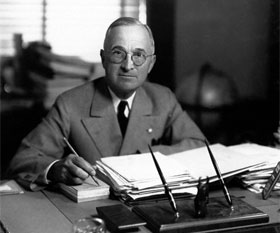 Above: Harry S, about to sign his name on a piece of legislation Multiple theories surrounded his middle name, often times invented by political enemies. One theory went that Truman's middle name was Solomon, which his rivals said meant he was secretly Jewish. Another theory claimed that in order to become a Freemason, he had to have a middle name so he adopted the initial S.
After encountering name-related confusion all his life, Truman finally explained in his autobiography that since his parents wanted to name him in honor of two different relatives both of whose names started with the letter S, they decided to compromise and just give him the middle name "S" instead of picking one over the other. Truman wrote:
"I was named for… Harrison Young. I was given the diminutive Harry and, so that I could have two intials in my given name, the letter S was added. My Grandfather Truman's name was Anderson Shippe Truman and my Grandfather Young's name was Solomon Young, so I received the S for both of them."
Here is how Truman signed his name: