The "States' Rights" Term Conservatives Frequently Use Has a Dark, Racist Origin
During the 2008 presidential election, both members of the Republican ticket, John McCain Sarah Palin, said that they were advocates of "states' rights." This was not terribly surprising, considering that every Republican elected to the White House for the past 30 years has extolled the virtues of states' rights at one point or another.
But what many don't know– or have forgotten– is that the term "states' rights" actually has a sinister and deeply racist origin.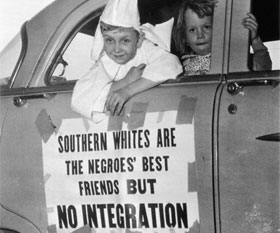 Above: Riiiiiiight.
The phrase was originally used as a code word by conservatives to court southern racists, assuring them that they were supporters of their right to have as much discrimination in their state laws as they wanted. In other words, they believed in the individual states' right to be institutionally racist and they wouldn't let the federal government disrupt them.
Southern political pamphlets using the term date back to the 1800s, even before the Civil War. The words even adorned the official state flag of Georgia in the mid-1800s.
During the Civil Rights Movement, conservative governor George Wallace proudly declared his support for "Segregation now! Segregation tomorrow! Segregation forever!" but later said he wished that he had declared his support of the more subtle "States' rights now! States' rights tomorrow! States' rights forever!"
Similarly, former Republican National Committee Chair (and Ronald Reagan/George H. W. Bush advisor) Lee Atwater admitted in an interview that "states' rights" was deliberately coded terminology. "You start out in 1954 by saying, "Nigger, nigger, nigger." By 1968 you can't say "nigger"—that hurts you. Backfires."
"So you say stuff like forced busing, states' rights and all that stuff," Atwater continued. "You're getting so abstract now [that] you're talking about cutting taxes, and all these things you're talking about are totally economic things and a byproduct of them is [that] blacks get hurt worse than whites." Why was Atwater so blunt? At the time of the interview, he was told he'd be quoted anonymously, although his identity as the source was revealed some 25 years later.