23 African Americans Were Elected to Congress Before the Civil Rights Movement
Although there is a common misconception that African Americans only held elected office federally since the Civil Rights Movement of the 1950s and 1960s, a number of blacks were elected to national office from Southern states during the 1870s as reconstruction took place.
However, when reconstruction from slavery was halted due to the compromise of 1877 (which effectively allowed the stoppage of minority voting rights in the south), the growing stream of blacks elected to office virtually ground to a halt.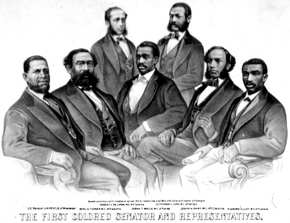 "The First Colored Senator and Representatives," 1872.


Up to the date of this writing, there has only been one African American to serve as a US Senator in the 21st Century: Barack Obama.

During the entirety of the 20th Century, there were just two black senators: Carol Mosely Braun (D-IL) and Edward Brooke (R-MA).

The 19th Century also saw two African Americans elected to the Senate, both from Mississippi where blacks made up a majority of the population, during the brief reconstruction era before they became restricted from voting by repressive and unconstitutional Jim Crow laws.

21 African Americans served in the US House of Representatives during the period immediately after the Civil War, and 98 have served post-reconstruction.

Reflecting the political reversal of the Democratic and Republican parties over time, all African Americans who served in Congress during reconstruction were Republicans (like Abraham Lincoln and other liberal abolitionists of their day), whereas all but three or 99% of post-reconstruction black members of Congress have been Democrats.