The White House Sported Solar Panels Until Reagan Removed Them in 1986
Believe it or not, there was a time when the White House was partially-powered by solar panels! But that didn't last, as they were taken down only a few years after they were installed (despite being in perfect working order).
During the energy crisis of the late 1970s, then-president Jimmy Carter called on Americans to conserve power and to prove that he wasn't just all talk, he had an expansive row of solar panels installed on the roof of the West Wing in 1977.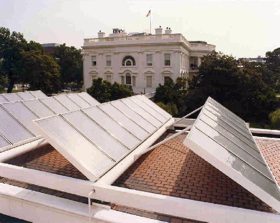 Above: Carter's solar panels
In order to encourage other Americans to consider using clean energy sources, Carter also put in place tax benefits for those who did. "No one can ever embargo the sun or interrupt its delivery to us," Carter proclaimed at the installation ceremony for his panels.
So, if the panels worked fine, where aren't they still there?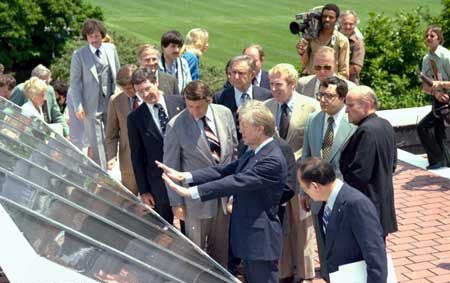 Above: Carter shows off his new solar panels at the installation ceremony in 1977.
In 1986 when the price of energy was temporarily cheaper and Americans' minds were less focused on environmental issues, President Reagan ordered the panels removed from the White House roof. Reagan, who didn't think much of solar energy, also allowed the tax credit Carter had instated to lapse.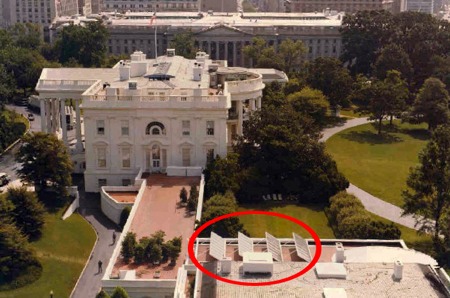 Above: A larger photograph shows the size of the panels and their proximity to the rest of the White House.
Then came "a clear, calculated campaign by the [Department of Energy] in the years of the Reagan administration to crush the solar energy program of the federal government" according to Denis Hayes, an expert on solar energy who worked for the government at the time. According to another expert involved in Carter's original solar panel installation, Reagan's Administration "felt that the equipment was just a joke… and he had it taken down."
The panels, which had served to heat water at the White House, were eventually used by Unity College for the same purpose where they continued to work perfectly for more than a decade.
In 2002, the National Park Service quietly installed a small number of solar panels on a maintenance building they manage on White House grounds, marking a semi-return to the use of solar power. The Bush Administration did not publicize the installations, which reportedly now heat the White House pool.