The First Openly Gay Elected Official in the US Was Shot to Death
The year was 1977 and after several earlier failed campaigns, photography store owner turned equal rights activist Harvey Milk (pictured above) was swept into office as a member of the San Francisco Board of Supervisors, the city's 11-member legislative assembly.
When sworn in the following year, Milk became the first openly gay American to be elected to high office in the country. As an office-holder, Milk fought for equal rights for all by opposing unconstitutional measures such as the anti-gay Proposition 6.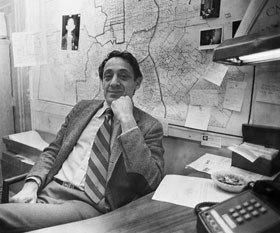 Above: Harvey Milk. Prop 6, which stoked homophobia among conservatives, aimed to remove any gays or lesbians serving in California's public schools, alleging that they were at risk of molesting children (despite the fact that a much higher rate of sexual molestation occurred among heterosexuals, by virtue of the fact that there were many more straight teachers than gays). The measure called for a public witch hunt to be conducted in order to "out" any gays serving in the schooling system. Thanks to the efforts of Milk and others, Prop 6 was defeated statewide.
Another one of Milk's achievements was to pass a progressive city-wide ordinance which forbade discrimination against residents based on their sexual orientation. It passed with the support of all but one City Supervisor– that of Dan White, who came into office at the same time as Milk. White was angry at Milk for opposing an initiative he had campaigned on, regarding the placement of a center for troubled teenagers (White, a conservative, wanted it out of his district, Milk thought it was necessary to help kids).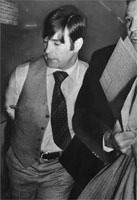 Above: White is arrested.
After opposing every piece of legislation that Milk was for, White eventually resigned his seat because he said his salary was too low to support his family. After a few days he changed his mind and tried to get his seat back, but failed. He then snuck a loaded gun into City Hall killed both Mayor Moscone (who had refused to re-appoint him), as well as his liberal rival Milk. Claiming his penchant for junk food had somehow driven him temporarily insane, lawyers for White managed to get him only five years in prison for the murders.
Milk's life and achievements were chronicled in the documentary "The Times of Harvey Milk" (1984) and the fictional film "Milk" (2008).