Use of the US Flag in Advertising is Illegal

Especially since 9/11, the American flag has been plastered on everything from coffee mugs to underwear, and seeing people wearing it or in car commercials has become a daily occurrence. But what many have forgotten is that the use of the flag in such contexts is expressly forbidden in official US Flag Code.
That's right– wearing the flag as a lapel pin might be all right, but the bumper sticker on your SUV or those American flag toothpicks are definitely not kosher according to Uncle Sam.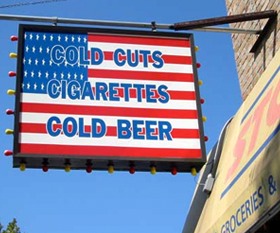 Above: US Flag Code would not approve of this message
According to the subset of US Code which deals with the proper care and use of the American flag, "The flag should never be used for advertising purposes in any manner whatsoever. It should not be embroidered on such articles as cushions or handkerchiefs and the like, printed or otherwise impressed on paper napkins or boxes or anything that is designed for temporary use and discard."
Additionally, the code, which was written in the 1920s and adopted in 1942, states, "No part of the flag should ever be used as a costume or athletic uniform."
Although these federal laws are rarely enforced, they technically can be, with the punishment up to the discretion of individual states (or by the federal government, if the offense is committed Washington, DC). What's also not common knowledge about proper flag care according to the code is that the proper way to dispose of an old American flag is actually by (wait for it) burning it, though in a "dignified" manner.