The Official Pledge of Allegiance Salute Used to be a 'Hitler Salute'
… Yes, that title is correct. Read on, intrepid history-seekers.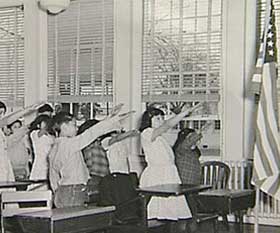 Above: The Bellamy Salute, before WWII
The pledge of allegiance was originally written in 1892 by Francis Bellamy, a socialist magazine writer. When he wrote it for a children's magazine, he also described a salute that he thought would be appropriate during its recital.
The pledge was aimed towards children, and the magazine also gave free flags away to schools, where the pledge was originally recited. The salute they were taught to give, with one stiff arm outstretched toward the flag, was deemed the "Bellamy salute" after its creator (who had gotten the idea from a salute that the Romans had done).
In the early 1940s, it was noticed that the salute bore a resemblance to a certain other salute being used in Germany at the time (which was based off of the same original Roman salute). As a result, it was formally replaced by Congress with the now-customary hand-on-heart during the pledge.
Below are three photographs showing the old salute, now in the Library of Congress, which were taken in May 1942 in Southington, Connecticut, just one month before the new salute became official. These photographs were taken by Charles Fenno Jacobs, a photojournalist who was at the time employed by the US government.